Queen Jewels
Accueil
---
Visions Of Queen
---
Info :
Published on : 22 September 2014
Auteur(s) : Steve Emberton & Alan Perry
Abstract :
Drawing on the archives of Record Mirror staff photographer Steve Emberton and concert photographer Alan Perry, Visions of Queen contains fabulous colour and monochrome images of the band taken between 1975, as 'Bohemian Rhapsody' was climbing up the charts, through to December 1979.
The vast majority of these images, which have laid untouched since the day the photos were taken, have never been published before and have been scanned directly from the original negatives and digitially restored.

This is a high quality, hardback, large format (26.8cms x 32.5cms, 10.5" x12.7") deluxe, coffee-table book, housed in a slipcase, with the images printed on matt art paper.
United Kingdom.
ISBN : 978-1-908724-21-2
(0 pages)
Voir :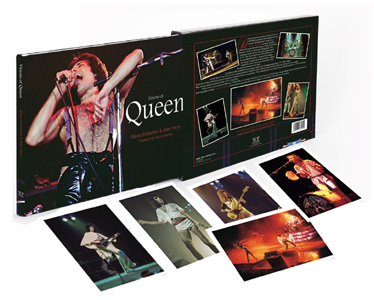 recto |

---